DAVINCI Creation Through Shapes & Colors
Now Available – Exclusively at ELC stores in Indonesia.
EDTOY Davinci Block set is made of high-quality plastic with innovative magnet housings that ensure a creative and captivating block play.
Patented magnet technology comprises of 360-degree rotation that makes a *Click* sound when combined, and serrated edge that makes a distinct *Crik* sound when the blocks are rotated around each other – Try it!
Non-toxic color-coating process ensures complete safety for play by infants upto children aged 12 years old, and product has high-standard European CE certification for its manufacturing excellence, with exports to America, Europe and Japan.
This item consists of 137 pieces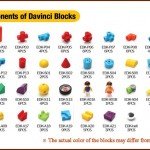 Click on the thumbnail to see a larger view of Davinci block set's 137-piece components.
To know where is the
store nearest you, please send us a message below.
In SUBJECT box, please type: LOKASI ELC
In MESSAGE box, please tell us what area in Indonesia you are inquiring.
Begin your message by clicking
LOKASI ELC?