Welcome to Kiddie EduToys store!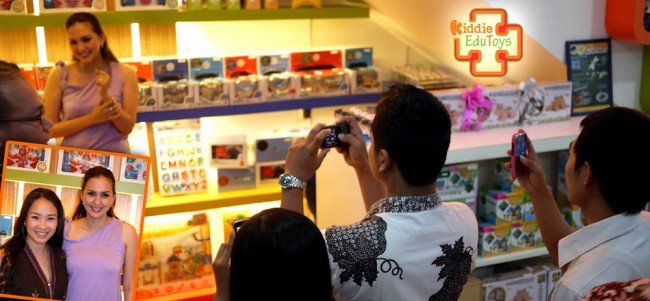 "We would like to thank our beloved Fifa World Cup 2006 TV presenter, Donna Agnesia, for her support of our EDTOY products. Hope her children continue to love our educational toy series!"
-  Ibu Eveleen Davis, store owner of Kiddie EduToys.
WHAT:
i3 Toys proudly presents, a joint-partnership with KiddieCare Center (Sunter), a brand new educational toy store inside a one-stop child care center with an amazing TRANSPORTATION concept that will amaze you!

WHERE:
 KiddieCare Centre @ Komp. Rukan Puri Mutiara Blok BF 9-12
Jalan Griya Utama, Sunter Agung (across the road from Kemayoran Golf driving range)
Jakarta Utara, Indonesia
Operating Hours: Monday to Saturday, 10AM to 10PM
Tel No.: (021) 645-2121
WHY:
If you are a parent or if you simply love everything that is children-related, you'll want to come & explore this wonderful new facility created by renowned child care specialist, Dr. Hanifah Oswari.
And Kiddie EduToys store will similarly amaze you with its range of innovative and creative educational toys,